It wasn't an ordinary night as a bevy of Pakistani showbiz industry gathered to extend their support for nation's favourite sport,-cricket at the Pakistan Super League logo launch ceremony held in Lahore.
Even before the ceremony kicked off, the weather in Lahore welcomed Pakistan Cricket Board (PCB) guests with a slight downpour in the afternoon, setting the mood for a wonderful night ahead.
The event kicked off with candid rendezvous with cricketers at green carpet hosted by the lovely Juggun Kazim. Dressed up in Ali Xeeshan's trendy outfit she was looking adorable.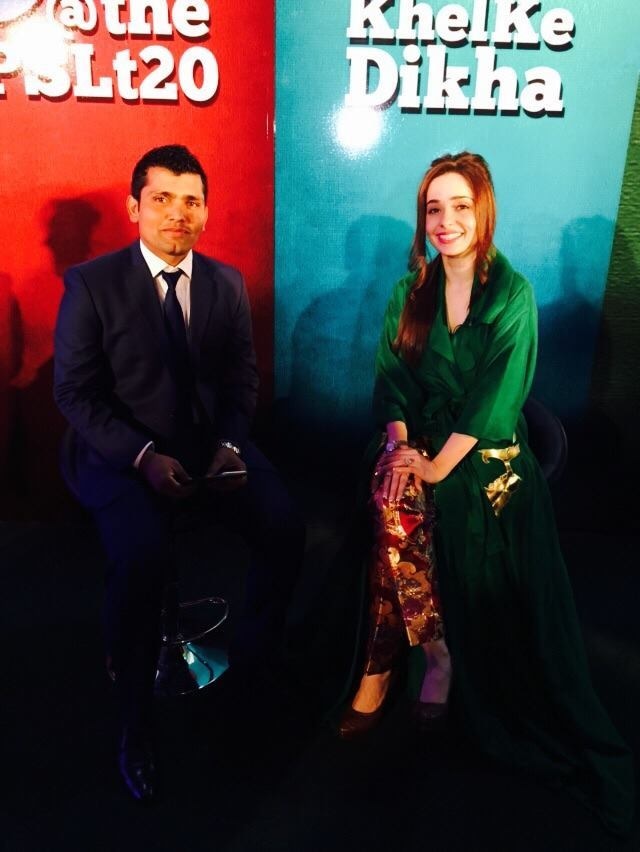 We were there to cover the PSL logo launch, but it was the presence of a slew of showbiz stars that turned the event into a glamorous affair.
As soon as I entered the green carpet, the flamboyant Sabika Imam caught my eye wearing an eloquent gown by Amara Khan. She was all set for a dazzling night and it was really difficult to get her mesmerizing persona out of my mind
Meanwhile, I saw the exquisite beauty Humaima Malick, making her way to the event in an emerald green sari with brother Feroz Khan.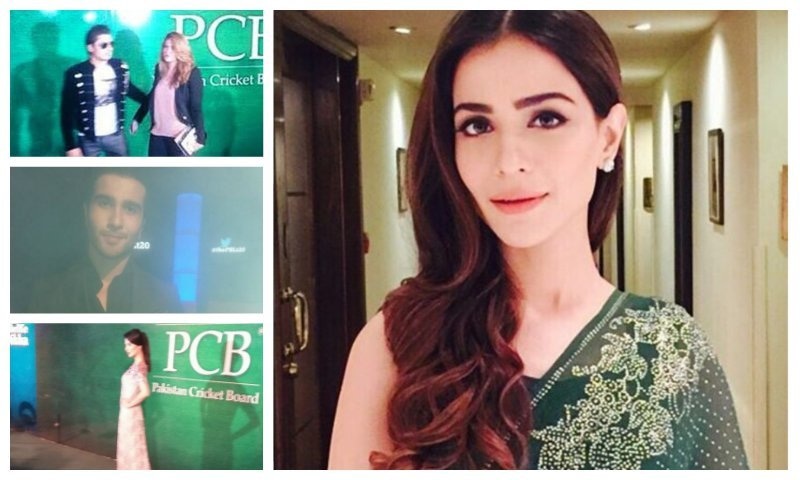 To add further glitz to the night, Bin Roye star Mahira Khan made the event more glamorous; followed by rock star Ali Zafar with wife Ayesha Zafar and the suave Fawad Khan made the crowd crazy with his graceful appearance.
3 epic moments of #PSL night
PSL logo launching event has featured several unforgettable moments that will be etched in our memories for a long time to come – from PCB announcing big rewards for PSL players, Strings live performance, to Ali Azmat live phone call to one of his fans during the show.
But among all great moments there were three which were hard for me to get off my mind.
When 3W's of cricket world took center stage
It was an epic moment when the host Omair Rana called Wasim Akram, Waqar Younis, and Wahab Riaz on the stage. Although the three of them were indulging in casual chit chat with the host on sports, but being a true cricket buff it gave me such pride seeing our nation's biggest sports stars sharing the stage.
Mahira Khan and Shahid Khan Afridi – an enticing combo for fans
There isn't any doubt that there is no match of Bin Roye's actress Mahira Khan, but Boom Boom Afridi is no less than any celebrity when it comes to fame and name.
PSL created history by putting the two legendary superstars of showbiz and sports together in front of the audience. As I was sitting a bit far from stage I couldn't clearly capture this moment on camera, but it was saved in my memory forever.
Meanwhile, the actress made the event a little more special by doing an exclusive cricket commentary on the request of Ramiz Raja during the show.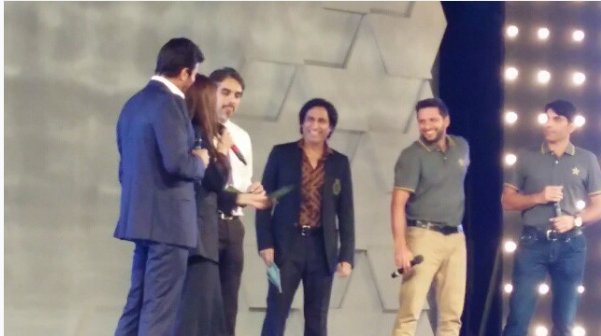 Rockstar Ali Zafar – the biggest attraction of night
By the time the ceremony began, we all knew that the multifaceted Ali Zafar would unveil PSL's official anthem, but I really didn't realize the magic he would create with his dhamakedar performance. It was simply spellbinding.
The show hit a high point when Zafar, after unveiling PSL anthem, performed with live band on his hit numbers – the talented Uzair Jaswal also joined him for Strings's popular number 'Dur'.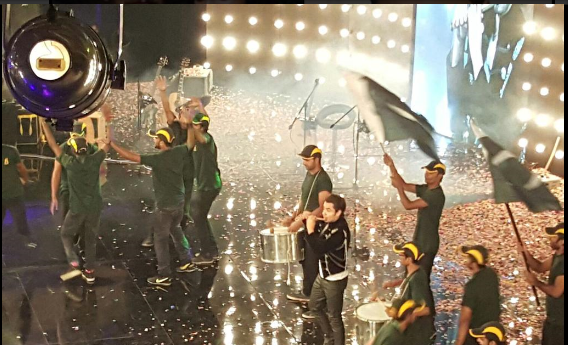 The PSL logo finally unveiled
PCB former chairman Najam Sethi while unveiling the logo announced that game winners will be awarded $10 million prize money whereas, each play will also earn around $50,000.
The PSL logo is based on pace and the left image is inspired by Swing Ka Sultan Wasim Akram.